Products & Services
Infolog eOMS
With the rise of the Internet and ease of access to low-cost smart devices, consumers are shopping online more than ever.
Ever since COVID-19 pandemic restrictions were imposed in Southeast Asian countries, e-commerce platforms have seen an average increase of nearly 20% in website traffic as compared to pre-pandemic period in Year 2019 with Singapore taking a lead of 35%. This 20% rise in website traffic had also resulted in an increased spending by an average of 19% in Year 2020 with Singapore taking the lead again.
Reports also revealed that shoppers will continue to shop online even after the pandemic restrictions are relaxed due to more competitive prices thanks to direct purchase from the source and overall e-commerce volume is expected to be double by Year 2026.
With the above reports and projects, Infolog understands the pain points for companies wishing to tap on the growing e-commerce market to fulfil their e-commerce volume.
Instead of relying on traditional multi-channel-based approaches to meet this new market, companies now can have the option to tap on Infolog eOMS (Omni-Channel Integration Platform) under Infolog Logistics Suite.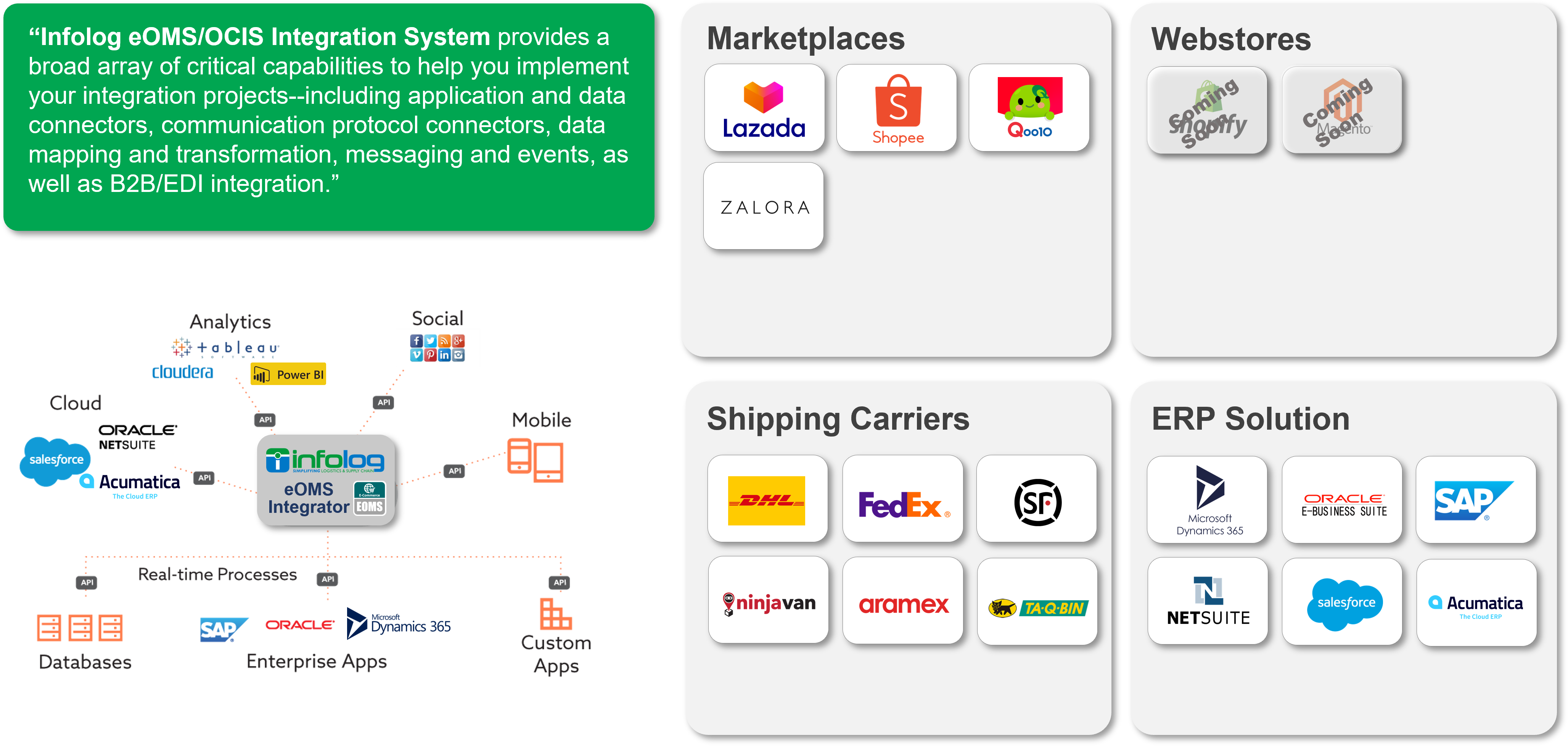 With Infolog eOMS solution, Infolog Logistics Suite is a One stop Integration for ERP, Supplier, 3PL, Retailer, eCommerce & Manufacturer and providing with the following benefits:
• Fully established connectors with the market players
• Plug & play feature for rapidly roll-out to reduce overall implementation timeline
• Seamless e-commerce integration with global ecommerce players
• Cost efficient by cutting short the implementation time
• Provide total visibility of your inventory
---
How It Works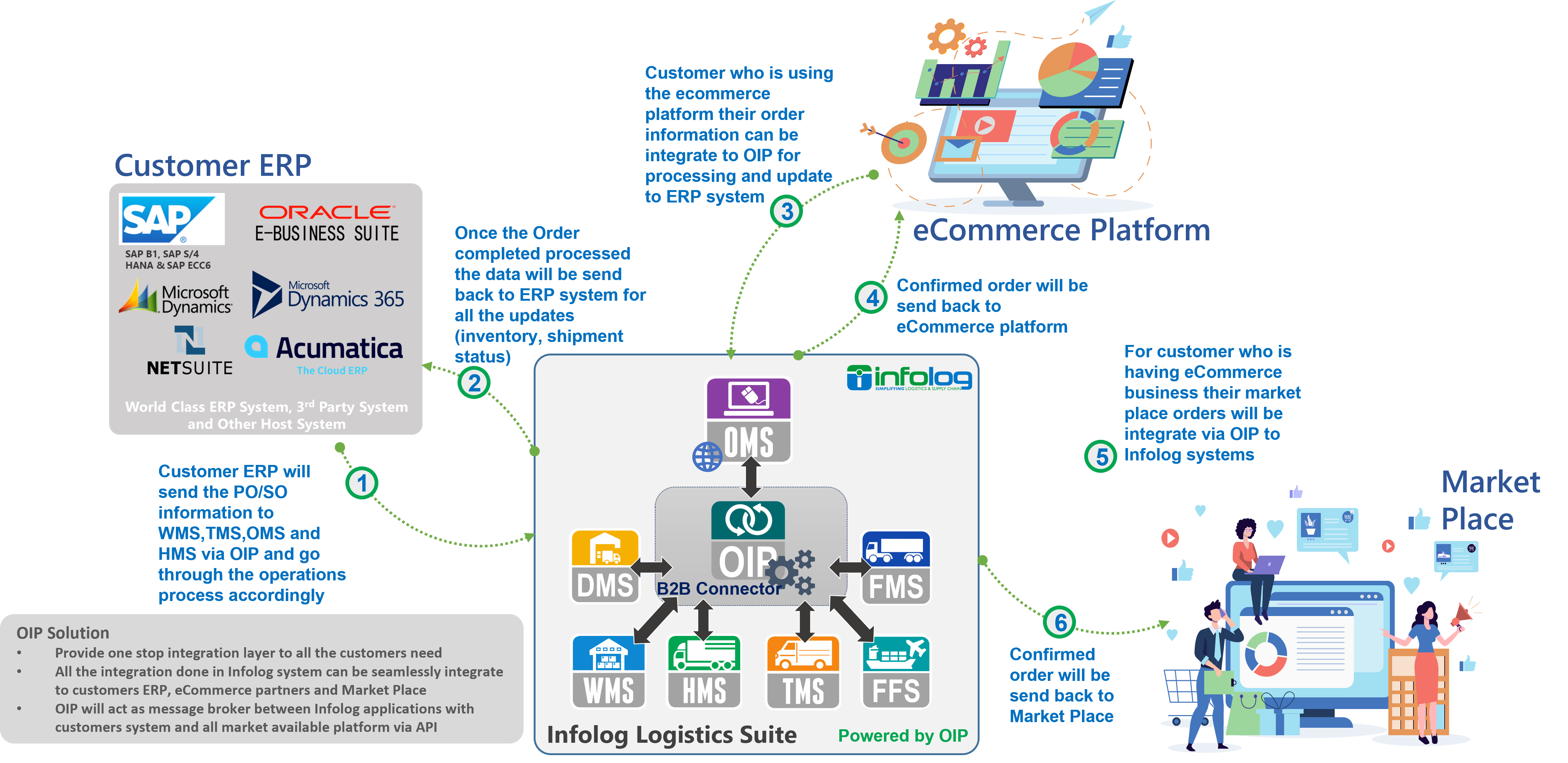 ---
Standard Dashboards for your e-commerce visibility
eOMS Overview Dashboard

Channel Based Sales Insight – Channel/marketplace wise sales insights for all your products listed across all online channels.
Order Trends Visibility – Provides insight by getting better at selling by knowing exact order trends based on selected date and time. Instantly identified orders status for daily and weekly.
Channel Based Order Insight – Provide comprehensive overview of all the orders received per marketplaces.
Track & Monitoring the Market Growth – Provide the bird's-eye view of your multichannel sales data can be categorised by regions, channels & products along with customer behavior analytics – all at one dashboard.
eOMS Order Visibility Dashboard

Real-time Order Management – Infolog eOMS Solution helps customers to consolidate, plan & track your entire order processing flow on a central dashboard. With all your eCommerce orders from multiple channels & regions synced to one platform, get end-to-end control & visibility for all your eCommerce orders.
eOMS Order Management Dashboard

Order Listing by Status – Single view of the orders clearly based on the respective status to allow better orders management for daily and weekly activities

Order Status Tracking – Provide real-time updates for all your shipments order and keep all relevant parties updates too.

Order Lines Product View – Receive complete order count overview & get detailed information for each order at one place. eOMS provided the details lines orders tracking
eOMS Inventory Listing Dashboard

Inventory Visibility – Direct inventory synchronization with Infolog WMS at warehouse and location level.

Product Listing – Provide the overview of the product maintained and created in the eOMS and easily identified product available for the sales order

Product Management – Provide the control and management of the characteristics of the product to be made available on the market place. Enable the control of the order placement based on inventory type
Shipping Label Generation

Customized Shipping Label & Report – Provide the customers with the capability of generating the shipping label from Marketplaces in order to provide the operation with the one stop solution for generation of label and report for delivery
---
Sample Air Waybill(AWB)
Below shows the AWB label printed out automatically after the confirmation of picking completed via automatic retrieval of AWB information upon Infolog eOMS received the picked confirmation and send to market place.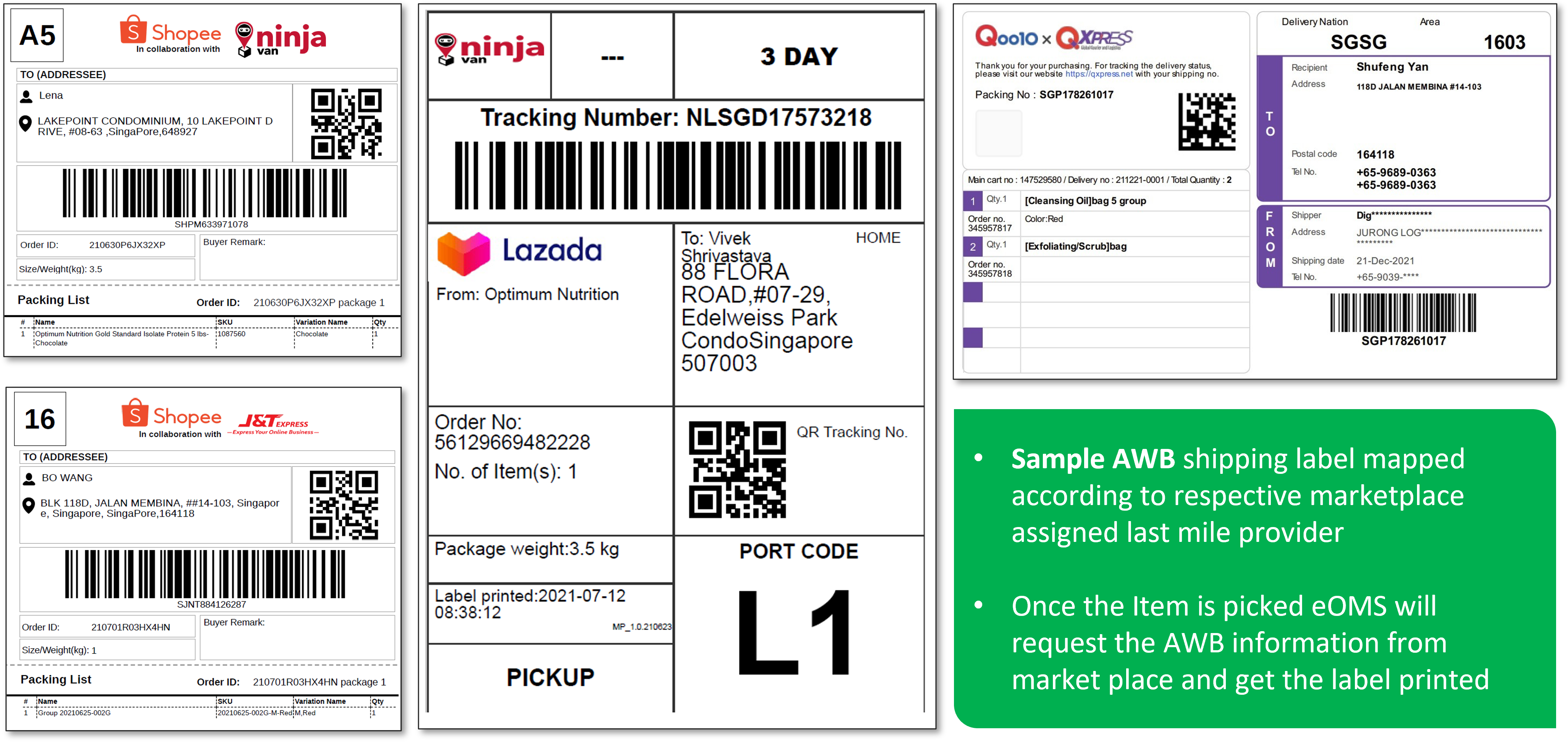 Infolog OMS
Frequently Asked Questions
Are your solutions eligible for government grant support?
Yes, for Singapore based customer, the support level is up to 80% of qualified costs.
For other countries, our local team will engage with the respective agencies to help support you.
I love this idea of eOMS product. However, my requirements would slightly differ from what you are offering.
No worries about this. Infolog is flexible in our offerings and we can work with you on your requirements to develop our product to your needs. We understand that there may not be a one-size fits all product even our customers are in the competing industry.
I want to continue operating during the implementation period. How can I do it?
We will work closely with you to minimise disruption to your existing operations while you migrate to the new features. Based on your situation, our team will be able to offer you a few options for your consideration.
Can I request for a reference visit?
Generally, it is possible if approval has been granted.
How can I contact you?